With a Growing Population, Memphis Is a Great Place to Start or Expand Your Business
Memphis is known for many things like blues music, barbecue, and more. And with a population of  more than 650,000 residents, now is a great time to explore investing in a chicken restaurant in Memphis by bringing a Golden Chick franchise to Memphis. We're excited to help you and other potential franchise partners bring our world-famous chicken and other delicious menu items to the Memphis metro area, which includes Western Tennessee, Eastern Arkansas, and Northern Mississippi.
Our proprietary recipes keep customers coming back for more, and the variety of our menu options helps to make a picnic near the Mississippi River all the more special. And that's where we can become good neighbors. Bringing a Golden Chick franchise to the greater Memphis Area is a sound investment that positions you for success in a growing market.
Available Locations for New Franchise Business Ownership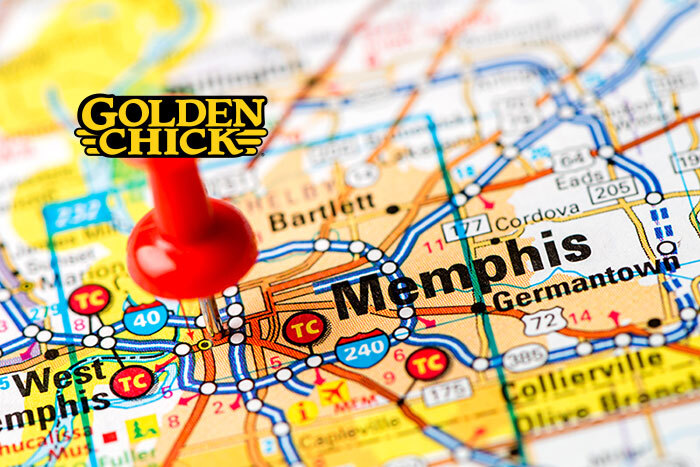 Downtown Memphis
Midtown
Orange Mound
Victorian Village
Whitehaven
Crosstown
Coro Lake
High Point Terrace
Sea Isle Park
Clarkedale
Marion
West Memphis
Forrest City
Holly Springs
South Haven
Olive Branch
Booneville
Hernando
Tunica
North Tunica
A Growing Restaurant Business in a Growing Market Is a Recipe for Success
Golden Chick is one of the fastest-growing chicken franchise restaurants in North America. We currently have more than 210 locations and value our franchise partners for what they do. We have a sustainable business model that allows you to grow your business with the support of a franchise development team and the resources to help guide you to the next level of entrepreneurship.
The QSR industry is projected to grow by 5.1% between now and 2027. While this number may not seem impressive at face value, you'll realize the importance of your potential investment when you analyze the figures. Every $1M represents approximately $50,000 in additional revenue that enhances the profit potential for your Golden Chick franchise. In five years, that could potentially amount to $250K in additional revenue.
Our franchise fee for your first Memphis chicken restaurant location is $30,000, with franchise fees for additional sites at $18,000 — a 40% discount. We also provide local and regional marketing resources for every franchisee to help build your location's brand and give you the visibility to keep customers coming back for more.