If you're considering investing in a franchise, don't just consider factors like industry growth – be sure to pay attention to brand specifics like versatility and adaptability. One of the reasons Golden Chick has experienced rapid growth in recent years is that we're quick on our feet and able to adapt to new circumstances quickly. In this eBook, learn how this quality has helped us:
Thrive throughout the COVID-19 pandemic
Stay competitive with other brands
Streamline our restaurant concepts
Better support franchisees
. . . and more. Simply fill out this contact form with your information to start your free download. We'll be in touch soon to answer your questions and give you more information on what it takes to become a franchisee.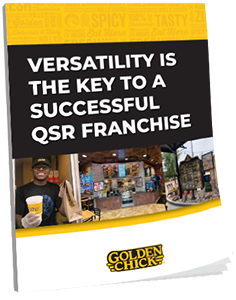 FILL OUT THE FORM BELOW TO GET THE FRANCHISE BROCHURE